Sara Carter—founder of Wildflower Fitness—launched a unique concept that was born from her years of competing as an athlete, her practice of multiple fitness classes including yoga and pilates, working as a massage therapist for 17 years, and a lifelong passion of healthy eating.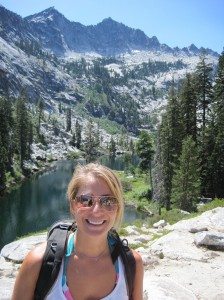 "While working as a massage therapist, I began to realize how many people were easily injured by high impact or repetitive stress fitness classes. Many of my clients were misaligned and had muscle imbalances. From my experience, I saw that most traditional forms of exercise usually led to injury or further muscle imbalances.  Additionally, at the time, I had my own injuries going on from vigorous, repeated yoga classes.  This led me to getting certified as a personal trainer through the National Academy of Sports Medicine (NASM). This type of program focused on training the body with alignment and core stabilization muscles first, then progressing to strength and power exercises. This model of training resonated with me profoundly.  I saw immediate results with my clients. All around, everyone was happier."
"Feeling good everyday requires a unique combination of loving yourself inside and out, providing your body with the necessary vitamins and minerals, and learning effective and efficient workouts to increase your energy all day, everyday!"
Sara Carter is a health and wellness expert. Her warmth, dedication, and enthusiasm have led her to being a role model to all. Health, fitness, and a heart for healing began when she was born into an incredible family who has encouraged and supported her throughout life.  Sara's passion is to live life to the fullest and guide others in that direction. As a former marathon runner and triathlete, Sara inspires others to reach for their dreams.
Sara has a degree in Exercise and Sports Science from the University of San Francisco. This extensive academic program included Human Anatomy and Physiology, Exercise Physiology, Nutrition, Kinesiology, only to name a few. She has spent numerous hours interning, training, and working in health and orthopedic centers. At 16 years old, Sara saw her path as a Nurse or Physician Assistant. She began working as a certified nursing assistant and then as a medical assistant. She has experience working in major hospitals, including CPMC in San Francisco, nursing and psychiatric centers, and medical clinics. One of her most memorable experiences include working for the sports doctors of the Seattle Huskies and Seahawks after graduating. After years of working in medical settings, Sara became discouraged by the lack of proactive thinking and preventative approaches applied to patients and clients under the current health model.  This led Sara to her path of holistic health and at 29 years old, she began her lifelong passion of preventative health care.
Sara began her massage therapy career in 2003. She holds a certification from the World School of Massage and Holistic Healing Arts.  In 2005, she decided to continue her education by taking several advanced massage classes from Alive & Well, The Institute of Conscious Bodywork. Some coursework includes Deep Tissue, Advanced Anatomy, Sports Massage, Trigger Point Therapy, Myofascial Release, Pregnancy and Thai massage. She even furthered her expertise by becoming a Teacher's Assistant. Sara has over 500 hours of bodywork training.
Sara's fitness training started in 2008. This was a natural progression due to her life of sports and fitness. She aspired to change lives and motivate others to achieve their health goals. While working as a massage therapist in a health club she met her coach and mentor who instructed a hands-on fitness training apprenticeship program.  She is certified through the National Academy of Sports Medicine (NASM). She stays current with CPR and completes hours of continuing education each year to stay informed on the latest innovations in the health and fitness industry. Sara's passion for fitness will continue to grow for the rest of her life. She is dedicated to impacting the health and wellbeing of others.
Sara opened Wildflower Fitness & Massage to educate everyone interested in pursuing a healthier lifestyle. A complete whole body health and wellness company, Wildflower provides the gateway to alternative medicine and preventative health care. Sara is a motivator, a teacher, a coach, a role model, and an inspiration to all.